Viennese officials (somewhat) optimistic about the proposed development of Church Street | news / fairfax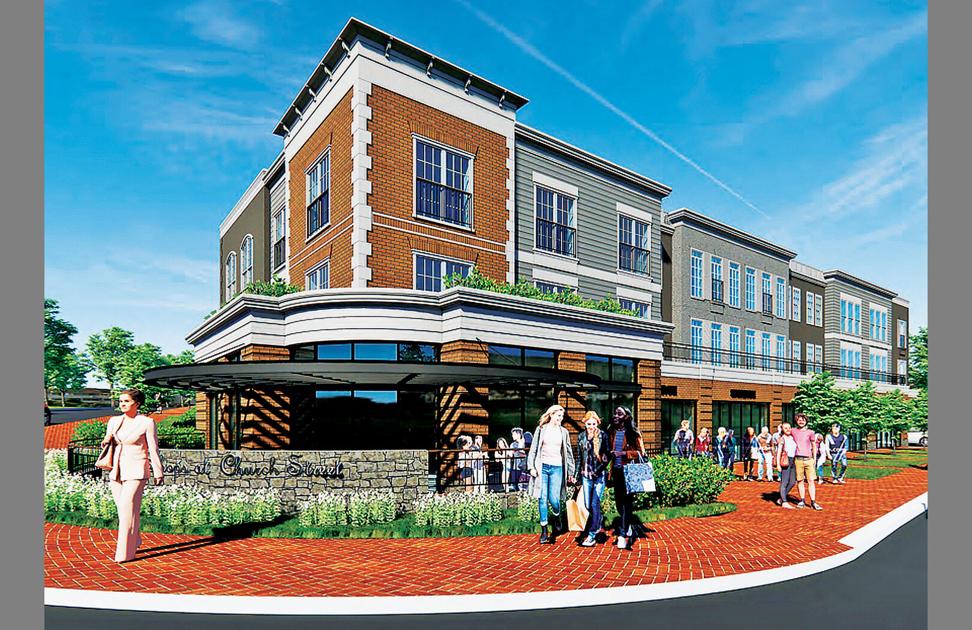 [Sun Gazette Newspapers provides content to, but otherwise is unaffiliated with, InsideNoVa or Rappahannock Media LLC.]
It has been seven years since the Vienna City Council approved a "Church Street Vision" redevelopment project, but another is now in sight.
Vienna City Council members appeared intrigued on June 14 by the concept plans for a mixed-use building on two lots at 139-145 Church St., NW, but had concerns about the site's parking, architecture and proximity to a busy intersection.
James Bognet, president and CEO of Tysons-based Bognet Construction, owns the 0.62 acre site and aims to construct a three-story building at 141 Church St., NW Bognet and representatives of MGMA Design, the architectural firm of the project, described the proposals during the working session of the Council.
Both plots now have two story retail / office buildings that would be razed to make way for a new 35 foot tall structure with six 9,378 square foot and two story ground floor retail spaces. of 9,448 square feet above with nine residential units each.
There would also be a 10,891 square foot basement with retail space and an 804 square foot rooftop amenity area for the residents of the building. Concept drawings by MGMA Design show a potential restaurant on the ground floor with outdoor seating guarded by a stone retaining wall at the corner of Lawyers Road and Church Street, NW
"We hope to have a vibrant outdoor space," said Will McBeath, partner of MGMA Design.
Taking advantage of the hilly terrain behind the building to the north, the developer would offer 72 parking spaces, including three spaces for disabled people.
Thirty-eight of the spaces would be in an underground garage accessible from Church Street, NW; the 34 remaining spaces and a dump area would be located above this garage. The second level of parking would be open-air and accessible from Lawyers Road, NW
Council member Ed Somers urged the developer to design the entrance to the second parking level in a way that protects pedestrians from exiting motorists.
The project would be developed under the city's Zoning Ordinance C-1B, which council approved in July 1999. The ordinance supports the Church Street Vision plan, which encourages redevelopment along what is arguably the most picturesque shopping street in the city.
In return for parking reductions, increased construction density and an expedited review process, developers are offering the architectural amenities sought by the city.
Since 1999, Council has approved these four Church Street Vision projects: 101 Church Street, NW (Sushi Yoshi, Vienna Pet Spaw), 111-113 Church St., NW (Bazin's, Blend 111); 144 Church Street, NW (Red Galanga); and 120 Church St., NW (Bard's Alley, Rita's, etc.).
The latter project, which includes retail on the ground floor and residential apartments on the second floor, was approved by Council in 2014 and was the most recent Church Street Vision initiative. The site had previously been proposed for a mixed-use building with municipal parking, but this public-private partnership failed in 2013.
MGMA designed the Church Street Vision project at 144 Church St., NW, and the new proposal would have a similar articulation and scale, McBeath said. Concept drawings show a variety of building materials and architectural touches – such as cornices, crown moldings, gooseneck lamps, and Juliet balconies – which are aimed at fulfilling city officials' hopes for buildings along Church Street which resemble those built at the end of the 19th century.
Council member Howard Springsteen said the concept designs looked more like buildings in Merrifield's Mosaic district than those on Church Street.
"I would like to have a more historical feel than what you are showing here," he said.
Some members of Council were not in favor of the proponent's proposal to use fiber cement siding on some of the residential units above the ground floor, which would have an all-brick facade. Board member Ray Brill said fiber cement requires regular repainting, while colleague Nisha Patel objected on cosmetic grounds.
"The cement board siding is unappealing and unappealing," Patel said.
Council members also expressed concern about the proximity of a possible corner restaurant at the intersection of Church Street, NW, and Lawyers Road, NW. one block from the even busier intersection of Lawyers / Courthouse Roads and Maple Avenue in the west, often resulting in slow traffic.
The intersection of Church Street and Lawyers Road is a zigzag shape with poor sightlines, odd turning angles, and misaligned opposing sections of Church Street. It has multiple crosswalks, which introduce pedestrians into the mix, and cannot accommodate a roundabout.
"The more clearance at the intersection, the better," Springsteen said. The Board will review the plans once the developer officially submits them. Church Street Vision projects are only reviewed by City Council and City staff and are not subject to the City Planning Commission and Architectural Review Board.