The $ 275 billion wellness real estate market and building for human health will be key topics on the agenda of the 2021 World Wellness Summit in Boston (November 30)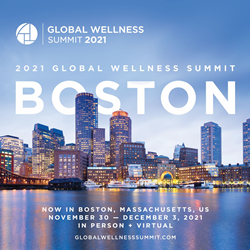 More and more people are demanding that the places where they live and work are specially designed to promote physical, mental and social well-being.
MIAMI (PRWEB)
October 27, 2021
The Global Wellness Summit (GWS), the largest gathering of international leaders in the global multibillion-dollar wellness economy, today announced another key topic for its upcoming conference: the powerful link between the built environment and our physical and mental health and the many directions the "build well" trend is taking.
The conference will bring together leading architects, academics, investors and researchers to discuss how new trends in construction and design, including the science and innovations that underpin them, are transforming the built environment and lead to unprecedented real estate investment opportunities and development pipelines.
Joanna Frank, President and CEO, Center for Active Design, will speak on health and wellness as a key value driver in the built environment, while Harvard professors Joseph G. Allen and John Macomber, will have a fireside chat to discuss the findings of their recent book, "Healthy Buildings: How Interior Spaces Boost Performance and Productivity". Wellness Designer Clodagh, an early and vocal advocate for integrating healing modalities into the built environment, will share insights from her recent projects. Veronica Schreibeis Smith (trend author of the 2021 Global Wellness Summit, "Spiritual and Numinous Moments in Architecture") will speak with Dr Phillip Tabb on how thoughtful design and architecture can positively impact our brains, while that Richard Carmona, MD, the 17th Surgeon General of the United States, will discuss the exact science of the impact of the built environment on our general well-being.
The Summit takes place in person in Boston, Massachusetts and virtually from November 30 to December 3 (see the evolution of speaker lineup). In-person attendees will also have the opportunity to have one-on-one conversations with speakers at the GWS Interactive Lunches, where speakers organize tables covering various aspects / trends related to their specific wellness specialty. to be.
"Before the pandemic, the concept of 'build well' and wellness real estate was gaining traction, but the pandemic has added a heightened sense of urgency to the problem and created tremendous momentum for the global market. more and more people are demanding that the places where they live and work are specially designed to promote physical, mental and social well-being, "said Susie Ellis, President and CEO of GWS." We will explore many angles of this. rapidly evolving sector and examine how projects around the world are being reinvented with human health and well-being at their heart. "
Learn more about the speakers:
Joseph G. Allen is Assistant Professor at the Harvard TH Chan School of Public Health and Director of the Healthy Buildings Program. He began his career leading forensic investigations into diseased buildings, leading teams of scientists and engineers to investigate and resolve hundreds of indoor environmental quality issues. His academic research focuses on the critical role the indoor built environment plays in our overall health and Allen is the co-author of Healthy Buildings: How Indoor Spaces Drive Performance and Productivity.
Richard Carmona, MD, was the 17th Surgeon General of the United States. He is also a decorated US Army Special Forces veteran and distinguished professor with a wide range of training and experience in healthcare management, clinical care, and research. Currently, he is Canyon Ranch's Chief Health Innovation Officer and a director of several boards of publicly traded and private companies. His speech will explore the negative and positive effects that the built environment can have on our epigenetics.
Clodagh, Founder and CEO of Clodagh Design, has been at the forefront of eco-friendly designs since the start of her career. She is acclaimed for her life-enhancing minimalism and "wellness by design" principles. She was one of the first to embrace healthy building modalities including feng shui, color therapy, aromatherapy, biophilia, and the science of light.
Joanna Frank, President and CEO of the Center for Active Design (CfAD), focuses on advancing design and development practices to foster healthy and engaged communities. Prior to launching CfAD, Joanna worked for New York City, where she held the positions of Director of Active Design and Director of the NYC FRESH Program. Her career began in real estate development as a partner at Bright City Development, LLC.
John Macomber is a Senior Lecturer in the Finance Unit at Harvard Business School. His professional background includes the management of real estate, construction and information technology companies. At HBS, Mr. Macomber's work focuses on the future of cities, particularly through private funding and the delivery of public infrastructure projects in developed and emerging worlds. He is the co-author of "Healthy Buildings: How Indoor Spaces Drive Performance and Productivity".
Phillip Tabb, Ph.D., is Emeritus Professor of Architecture at Texas A&M University. Tabb is the master plan architect of the Serbian community and author of six books covering topics such as biophilic design, numinous architecture, soul in design, sustainable urbanism, sacred places and extraordinary experiences. of everyday architecture.
Registration is now open for the in-person event at Encore Boston Harbor; space is extremely limited. GWS 2020 has pioneered new ways to keep attendees safe at a conference, and 2021 will be no different. All delegates must provide proof of vaccination.
Virtual delegates from around the world will be greeted by Anna Bjurstam, Six Senses Wellness Pioneer and a member of the GWS Board of Directors, who provided the dynamic virtual experience at last year's event. Virtual attendees will have access to the entire agenda on stage (live and on-demand), as well as special breakout sessions and online networking opportunities. Register here to participate virtually.
Editor's Note: The GWS will be posting speaker announcements each week prior to the 2021 event. To apply to attend the Summit in person or in person as a media, please complete the media accreditation form. In-person attendance is limited.
About the Global Wellness Summit – The Global Wellness Summit is the premier organization that brings together leaders and visionaries to positively shape the future of the $ 4.5 trillion global wellness economy. Its forward-looking conference is held at a different global location each year and has visited the United States, Switzerland, Turkey, Bali, India, Morocco, Mexico, Austria, Italy and in Singapore. GWS also regularly hosts virtual gatherings, including wellness masterclasses, wellness industry spotlights and "Reverse Pitch" events for investors. The organization's annual report on global wellness trends offers expert forecasts on the future of wellness. The 2021 Summit will be held in Boston from November 30 to December 3.