Green roof systems explained by experts – including sedum roofs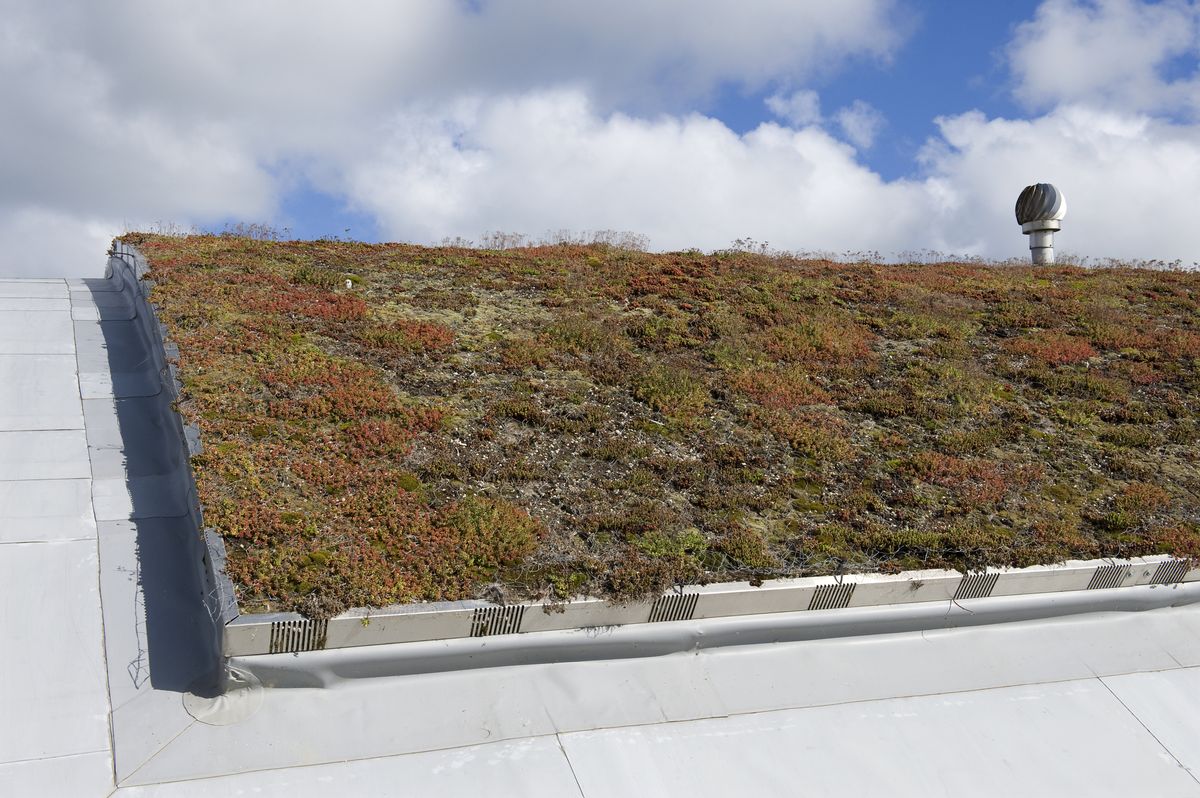 You may have first encountered green roof systems on commercial buildings in cities across the United States, but they're not only a great option for these types of buildings and built-up urban areas.
A green roof is also a great addition to a home, wherever you live. If it looks attractive, that's far from its only advantage, and it can bring you a host of benefits that commercial property owners are already enjoying.
A sedum roof is a popular choice, but it's definitely not the only planting option. Use our guide to find out all the possibilities of green roofing systems, how they can benefit different homes, especially self-build plus the cost of one of them with expert advice.
Green roof systems
There are many reasons why green roof systems are a good idea. They can reduce storm water runoff, help cool your home, purify the air, and support the beneficial insects you want in your yard.
A green roof will also introduce additional color and interest, and make the view of your home and yard more attractive.
What are the different types of green roof systems?
The main types of green roof systems are extensive, intensive and intermediate, semi-extensive or semi-intensive.
"Green roofs are usually labeled based on the thickness of the growing medium," says plant expert and residential living wall specialist Gennaro Brooks-Church of Eco Brooklyn. "Green roofs use a specially mixed growing medium that acts like soil, but is much lighter. The three general categories are extensive for growing media 1 to 4 inches thick, semi-intensive for 4 to 6 inches thick, and intensive for anything thicker than 6 inches.
As for where each type of green roof can be used and what it's planted with, Orlando Ferris, certified roofing technician and House Grail roofing expert, explains:
'Extensive green roof systems are the most popular because they are easy to maintain and lightweight. Sedum, delosperma, and sempervivum are typically used for green roofs because they adapt to almost any level of sunshine and all depths of support in the United States and are capable of storing excess water.
"Extensive roofs can be built on a wide variety of structures: single-family homes, commercial buildings and light industrial sites. However, as a rule, they are not used for areas accessible to the public.
'When it comes to semi-intensive green roof systems, a deeper soil layer and a drainage solution are needed. This allows you to use a larger selection of more complex plant mixes, such as grasses, flowering plants, taller grasses, and tiny shrubs.
"Semi-intensive roofs are frequently used in high visibility locations to enhance the visual appeal of a building. Due to the vegetation and the substrates used, they require more care than the large roofs.
" Intensive green roofs require the thickest layer of soil suitable for growing trees and tall shrubs. Intensive green roofs require a high quality irrigation system that would be used regularly to keep them green and lush throughout the summer.
"Intensive roofs are not common due to their high cost and extreme weight. These types of roofs are commonly found in luxury hotels, public buildings, museums, and other large-scale structures that require a high visual impact.
You might also see a reference to brown roofs. " Biodiversified roofs (brown) are the most environmentally friendly option, "says Ferris. "They include a variety of biodegradable and recycled materials, such as rubble, rubber and wood chips, in order to attract wildlife such as bees and small insects to inhabit them."
Have you heard of sedum roofing? Sedum has shallow roots and therefore only requires a thin layer of growing medium, which is why it is a popular plant choice for an extensive green roof. Other benefits of Sedum include being drought tolerant, easy to care for, and resistant to pests and diseases.
What are the advantages and disadvantages of a green roof?
There are many advantages to a green roof, but there are a few possible disadvantages, and both are worth being aware of if you are considering adding a green roof to your home.
Advantages
"The two main advantages of green roofs are temperature regulation (it keeps the building cool in summer and helps keep it warm a bit in winter) and rainwater retention," says Gennaro Brooks-Church. . "Soundproofing is also an advantage. Keep in mind that a cooler building decreases the need for air conditioning and therefore can lead to lower energy bills.
"This reduces greenhouse gas emissions," says Leonard Ang, CEO of iPropertyManagement. How can this happen? A green roof absorbs carbon dioxide, which is the most abundant of greenhouse gases, so you will be contributing to the climate change mitigation effort.
A green roof can be installed on most horizontal and slightly pitched roof structures. Consider them for garden buildings as well as additions and new homes.
A well-constructed green roof can mean a roof with longevity. "If everything is done right, the green roof will add up to several years to the life of the roofing system, if not double it," says landscape designer and gardening expert Bryan McKenzie of Bumper Crop Times. "The green roof protects the main roof from UV rays, excessive humidity and too low temperatures. You can consider a green roof as a way to delay roof replacement for 10 to 20 years.
Go for a green roof when building a new home or an addition to an existing home and you will replace the ecology removed by your work.
And while we put the latter on, it's definitely not the least. "Green roofs are aesthetic," says Orlando Ferris. One of them is a great way to make your home and garden more attractive.
The inconvenients
"Green roofs are much more expensive than conventional roofs," says Orlando Ferris.
"In addition, they are heavy and use more materials (rocks, gravel). It can be very difficult for some buildings to support the extra weight, "he adds.
"Some may also dispute the limited choice of plants, as only species with non-invasive root systems are allowed," says Bryan McKenzie. "I can't agree with this because there are too many plant species in this category and everyone can find what they want."
How much does a green roof cost?
Be aware that costs can vary widely. "Green roof projects start at $ 12,000 for small and medium sized designs, but the average cost for a project is $ 22,000," says Bryan McKenzie. "Complex roofs that combine different areas can run up to $ 40,000 and more. "
In the UK, expect to pay around £ 50 per square meter for a sedum roof.